Lonesome Dove Remembered
The original bridge is gone but it had been replaced
by a wood one as seen in Comanche Moon.
The whole time Mr. Kincaid told us of his part in the movie and how they used hanging cages from Comanche Moon with a Crain (by the way it was Blue Ducks Mountain) and it looked very unsafe.
If ever a man should write a book it was John Kincaid and I told him so, the stories he told were so fascinating that it was a shame that Lonesome Dove fans are deprived of them. One of the stories that moved me the most was a small boy with cancer was brought to the set by Robert Duvall as the boy was a fan of the movie. Mr.Duvall took the time out of his busy schedule to escort the boy around and ending the tour with the grave of Gus McCrea. The boy cried as he clung to the grave of his fallen hero as if there were someone in that grave. Robert Duvall hugged the child and reassured him that Gus was still alive and soothed the sick child's tears. If Robert Duvall ever had doubts about heaven he made a lot of points that day with the man upstairs.

This building sat next to Mary Pumphreys general store.
The store is gone but this survived.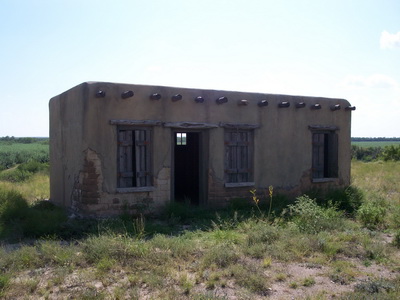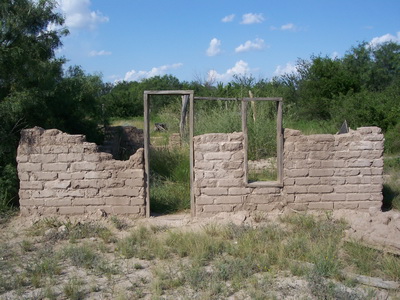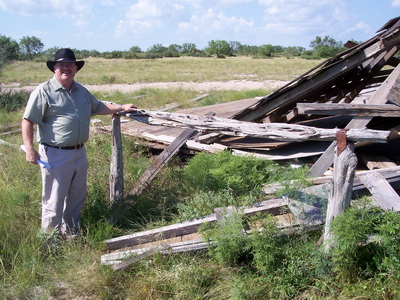 Now it was time to walk the streets of Lonesome Dove and it seemed from the existing building that this town thrived in the 1870s and that surely this is what it was suppose to look like in a modern time.
It was a ghost town of monumental stature and it was very difficult to accept that this was just a discarded movie set and that the actors were just here to do their jobs. I felt more than that maybe because I was deeply moved by the movie, maybe it was the tie to old west and a simpler time, or maybe the actors did their job so well that surely that dream was still alive.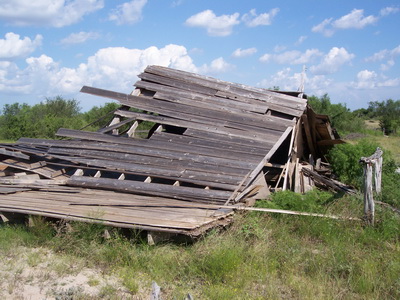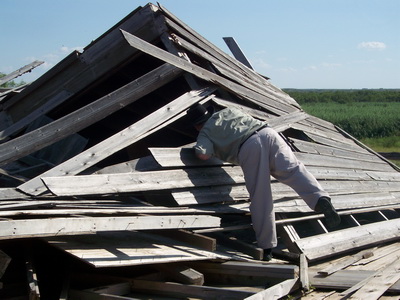 I was lucky that day and if I had had a moving van I could have saved a lot of stuff. Mr. Kincaid was worried about my climbing around with rattlesnakes about and I was trying to pull the front window of the famous saloon and he finally warned me that he was going to throw a rope around me if I did it again. Part of me knew he was right but the other part was like a child in a toy store and danger be damned.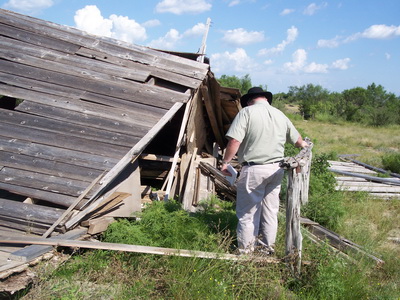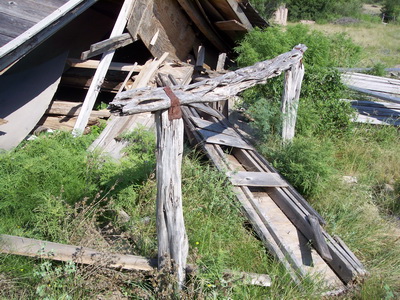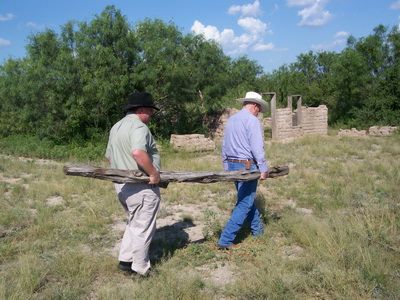 I walked past the various buildings that I had come to know so well at home in front of the TV I walked up to what was left of the DRY BEAN and Mr. Kincaid told me some sad news, He had to bulldozed the building and was burning it next week. The set must be destroyed except for the bunkhouse, the barn, and the building next to Mary Pumprey's store. I ask him if it had to be, if I could take the hitching post from the DRY BEAN and a few other souveniers and he told me go ahead and take them now before they meet the fire.